Are you new to Basingstoke Festival? Or maybe you've visited the town centre before but not been to all the festival locations? We've put together this accessibility guide to the festival to help you plan your weekends.
---
Basingstoke Festival is Basingstoke's annual free outdoor summer arts festival, delight your senses with street theatre, visual arts, circus, storytelling and dance. The 2024 festival will start on Friday 21 June and will run to Sunday 7 July with free street performances across the three weekends, along with a programme of indoor and community events taking place during the festival dates.
---
If you're local, travelling on foot or by bike is a great way to travel sustainably into the town centre. For those travelling by car, Basingstoke is conveniently located just off junctions 6 and 7 of the M3 and accessible via the A339 from Newbury and Oxford and A33 from Reading,
By train, you can get direct trains from London Waterloo, Winchester, Reading, Oxford, Southampton, and Portsmouth.
To help plan your arrival into Basingstoke and Deane, see access guides highlighted below from AccessAble for the train and bus station and parking at Festival Place and The Malls Shopping Centre.
Arriving at Basingstoke Bus Station
Basingstoke bus station AccessAble guide
Arriving at Basingstoke train station
Baingstoke train station AccessAble guide
Arriving by car to Festival Place
Arriving by car to the Malls Shopping centre
For more information on getting to and around Basingstoke and Deane visit the Love Basingstoke website's guide to getting around.
There are a number of other AccessAble guides available to help you plan your visit to Basingstoke town centre and the Festival Locations, including Festival Square and Eastrop Park.
---
AccessAble guides are available for the 2023 Festival locations outside of Basingstoke town centre below. Performances at these venues will be held outside.
---
Performance icons have been introduced to Basingstoke Festival this year to offer quick guidance to each event. You will find these located on the website and printed programme.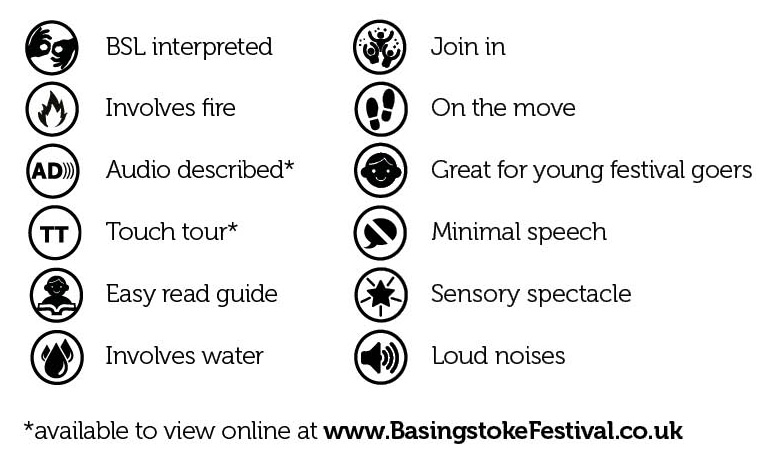 ---
2023 Festival audiences were able to enjoy the following speech free, largely non-verbal shows:
FLOOD by Theatre Témoin was BSL Interpreted.
---
Easy Read visual stories were available for the following 2023 shows, these were available on our website with QR codes at the performance location.
---
Audio descriptions were available for the following 2023 shows, these are available on our website and QR codes will be available to scan at the performance location.
If you have any questions prior to joining us at the Festival, please e-mail festival@basingstoke.gov.uk or chat to one of the staff you'll find in a bright pink t-shirt on the days of the festival at the performance locations.